Betsy Snider was born and raised in Cleveland, Ohio, with her four siblings. After an interlude in the convent in rural Pennsylvania, Betsy got her BA in English from the University of Michigan and her JD from the University of Michigan Law School. She worked for 20 years as a corporate attorney in Connecticut and moved to a lake in rural New Hampshire, where she lives with her cat Sophie and the ghosts of her many dogs.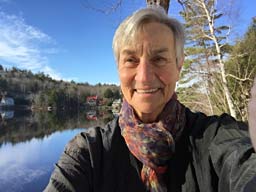 When Betsy is not swimming or hiking, she writes poetry and has volunteered as a CASA Guardian ad Litem for abused and neglected children. She has served on the Board of the Poetry Society of New Hampshire, along with various town boards. She was first published in Lesbian Nuns: Breaking Silence (Naiad Press, 1985). Her poetry has been published in a variety of journals and anthologies, most recently in River of Earth and Sky: Poems for the 21st Century (Blue Light Press, 2015); Poet Showcase (Hobblebush Books, 2015); You Must Remember This (Poetry Society of New Hampshire, 2015) and Love Over 60: an anthology of women's poems (Mayapple Press, 2010). She is a winner of the 2015 Blue Light Book Award for her new book of poems, Hope is a Muscle.
Betsy's poetry is deeply rooted in place and time, informed by her life story and the lakes and forests she has lived near most of her life. Her desk looks out on a lake that every day presents new surprises. Like Kay Ryan, Betsy grew up wanting to be a stand-up comic or a folk singer, but she still can't remember punch lines or stay on key.